Our Lady of Lourdes School in Elliot Lake Receives Inclusion Award
Posted: May 16, 2023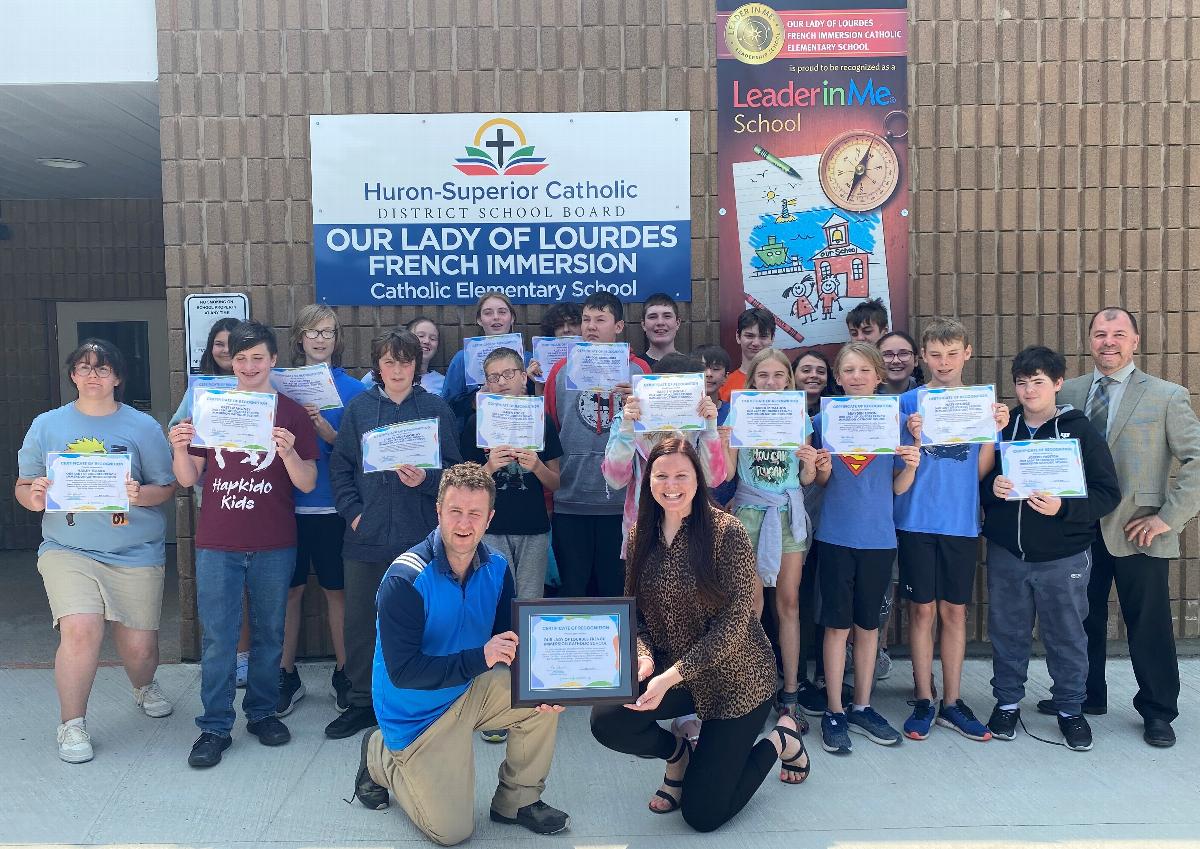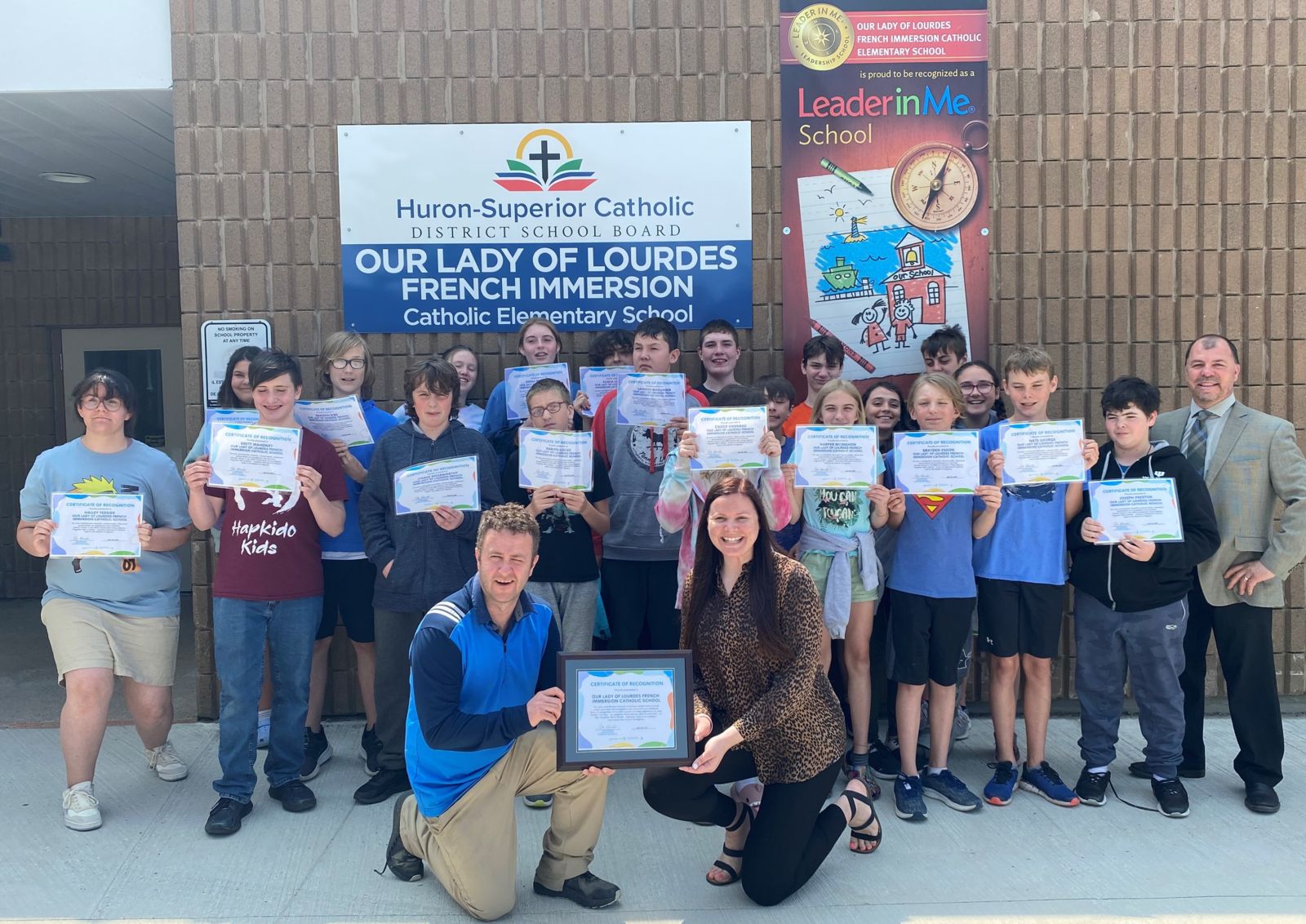 Shown: Students in the Grade 7/8 class along with Principal Stephane Prevost (far right); teacher Vince Ucci (lower front); and Vice-Principal/teacher Nadia Kovacs.
Our Lady of Lourdes School, in Elliot Lake, receives Award in Community Living Algoma's Inclusive Education Contest
Award presented during Community Living Awareness Month
Elliot Lake: Our Lady of Lourdes French Immersion Catholic School, in Elliot Lake, has once-again proven how inclusion figures prominently in their school environment. Students in a grade 7/8 classroom, taught by vice principal and teacher Nadia Kovacs and teacher Vince Ucci, were the recipients of an award in the 'Together We're Better' Contest, presented by Community Living Algoma (CLA).
Every February, as part of Inclusive Education Month, CLA launches their "Together We're Better" contest. Schools and students, from kindergarten to grade 12 across Algoma, are encouraged to share examples of how inclusion is evident in their schools. Two Algoma classrooms were selected as this year's award recipients and the second school will be identified following their school assembly in June.
"It was exciting to see how this class incorporated the contest requirements, about inclusion and diversity, into the classroom curriculum," says Sergio Iacoe, Manager of Inclusion, CLA. "Our Education Committee really enjoyed seeing the creativity and diversity in all of the classroom's entries which included videos, photography, role-playing and skits."
The Grade 7/8 submission was a mixed media presentation on inclusion and acceptance. The joint submissions included various ways that people can respectfully include people with disabilities of varying types, into activities and conversations. Each student received a certificate of recognition, from CLA, with the school also receiving its second certificate recognizing their role in promoting and fulfilling an inclusive school environment.
This Elliot Lake school is a back-to-back winner as an individual student was selected as an award winner in last year's 'Together We're Better' contest.
"It is very honoring when the collaborative efforts of our students attain this type of recognition not only at the school level, but also at the community level," says Stephane Prevost, Principal, Our Lady of Lourdes French Immersion Catholic School. "It is through these types of opportunities provided by organizations such as CLA that help enable the Our Lady of Lourdes French Immersion school students to learn through self-reflection, putting their learning to action and communicating their work towards a greater cause. I applaud our group of students in congratulating them on this achievement."
The submission was an assignment that worked within the curriculum.
"I am extremely proud of the initiative and leadership efforts from these 28 amazing intermediate students. They communicated their learning collaboratively, through a variety of creative and innovative avenues - recognizing that our school community is a safe, inclusive, and welcoming learning space," says Nadia Kovacs, Vice-Principal, Our Lady of Lourdes French Immersion Catholic School. "Participating in contests such as 'Together We're Better' allows the academics to be applied through community involvement."
Prize money, which is awarded as a gift card, will be applied towards a bowling party at Northern Lights Bowling Centre, as selected by the Grade 7/8 classroom teachers.
Community Living Algoma provides supports and services to more than 780 people in the Algoma District who have intellectual disabilities or are on the autism spectrum. Community Living Algoma is committed to the advancement of a community in which all people are recognized as full citizens; achieve personal dignity; enjoy the benefits and responsibilities of independence and are supported to reach their full potential.